1000 Posts Club
Vendor
Founding Member
Wiki Contributor
Member ID

#1044
Messages

1,429
Reactions

6,205
Points

162
City

Riverside
State

CA
Country

United States
Vehicle

2015 Dodge Charger Hellcat!
In this how-to, we will walk through a simplified procedure to repair an inoperable, or "skipping" outside door handle.
TOOL LIST:
1/4" RATCHET
12" 1/4" EXTENSION
#20 TORX BIT
TRIM REMOVER TOOL (to remove the door panel)
PHILIPS SCREWDRIVER (to remove the door panel)
In my case, the rear driver door handle began to "skip", or not catch, all the time. Eventually, the handle would just make a crunching noise and not work, at all. I removed the outer door handle and found that the lever that the door handle actuates was "loose" and (in my not so humble opinion) had way too much play. I ordered a new DOOR HANDLE BRACKET:
Left Rear Door: 68060191AH
Right Rear Door: 68060190AH
Front Left Door: 68060189AI
Front Right Door: 60860188AH
Once I had the bracket, in hand, my suspicions were confirmed. The bolt that holds the lever in place, had the potential to back out... and it had. I decided to keep the new part, in the box, and figure a way to repair the one, on the car.
After removing the door panel, I discovered that FCA designed the window regulator as one gigantic plastic panel, that is nearly impossible to remove. The manual says to remove several 10mm head bolts, turn several cam locks, remove the entire wire harness, remove the inside door handle and lastly, the garnish around the window, on the door, and the window, itself. Not going to happen. No way.
I removed the outside door handle. and was able to peer inside the door. I guestimated a bee line from the bolt, to the window regulator plastic thingy and marked it, with a Sharpie. Mind you, this is after trying to remove the window regulator assembly. I grabbed my drill (GASP) and drilled a 1/2" hole, in the regulator, where I had marked it. I put my flashlight inside the door and was able to look into the hole and see the offending screw. Using a 1/4" extension, I fished the Torx bit, into the hole and tightened the bolt. After replacing the outside door handle, it worked like a charm!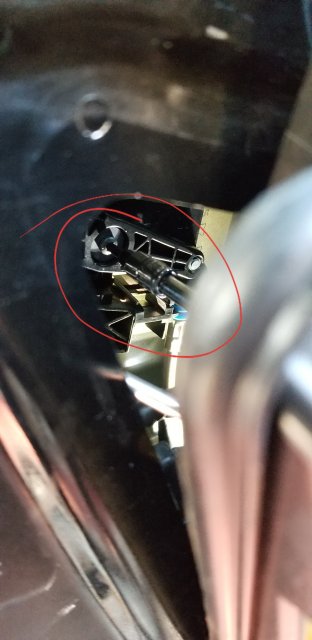 That's it. I'm sure it's the same situation, for the front doors. The key is to remove the door panel, then the outside door handle, so you can sum up, where to drill a hole.
I hope this helps, if it ever happens to you.
Bob
Last edited: