Member ID

#1258
Messages

40
Reactions

43
Points

12
City

Austin
State

TX
Country

United States
Vehicle

2017 Charger Hellcat
Hello,
As I was trying to assess why my UConnect clock was off, I discovered that the Nav/GPS location was messed up in my car. Here is what I have found:
- The car thinks I am roughly 27 miles from my real location. Mostly north, and slightly east of my actual location.
- I used the "Current Position" page (inside the navigation screen) to tell me the GPS coordinates that the car think's I am at. I then looked up the GPS coordinates of my current location using Google Maps. The difference was about +.319 degrees latitude and +.096 degrees longitude from reality.
- I confirmed that the map location that the car was showing me was equivalent to it's faulty GPS coordinates. So it does know how to link those still.
- I confirmed that as I drove down my street, the Current Position data was updating/changing. It was not frozen.
I took a picture of the Current Position screen (attached). I do not know what it should look like on a fully working UConnect system. But it appears the only data it could show me were the bad coordinates.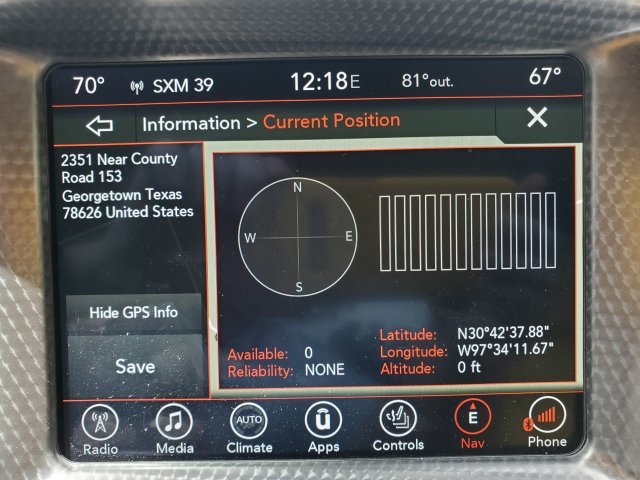 Are the 12 vertical bars supposed to be a "strength of signal" indicator?
What is supposed to be showing in the compass area?
What is "Available: 0"?
Reliability is NONE - Yeah, I got that
And back to the clock - it was 8-9 minutes fast, and was set to 'Auto Set' via the GPS feature. I can workaround this just by going with manual settings for now, which I did.
Is there a way to reset/reboot the system?
Thanks!